OBIEE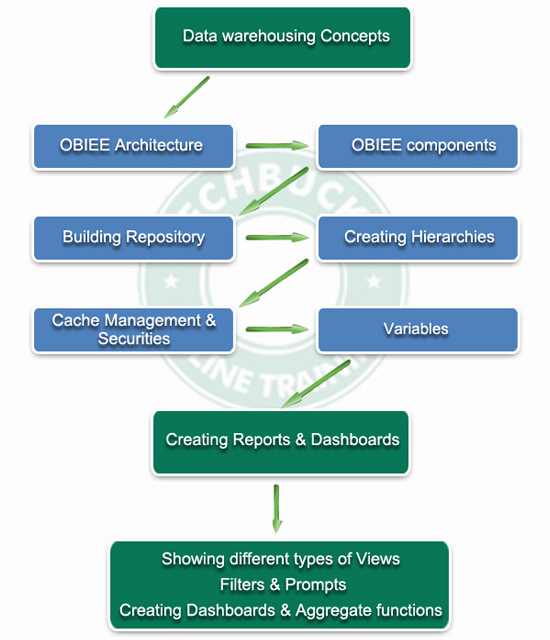 Over View
The objective of this training is for the beginners who are new to the oracle Business Intelligence. This gives attendee detailed explanation of Data warehousing concepts and drives them into Oracle business intelligence that gives them way to create repositories, modeling and organizing the three different layers. Creating different types of reports and publishing them in dash boards.

Attendee Prerequisites
Basic knowledge on database concepts and writing SQL queries.

Career Path
Oracle business Intelligence Developer.



Oracle business Intelligence Tester.


Oracle business Intelligence Administrator.



Certification Path
The course helps you to prepare the following Certification exams

Oracle Certified Professional
Why should you choose TECH BUCKS as your OBIEE Training Partner?
Techbucks is the professional online software training company. We offer software training in various technologies. Many may think what is the specialty in choosing TECH BUCKS?

Our online training is based on real-time exposure and live interactive classes.

Experienced software trainers and skilled professionals with in-depth knowledge.

Customized training packages at affordable prices.

Special classes by industrial experts.

Live project application are dealt in the training Professional environment driven by friendly values.

We implement entirely different techniques, methodologies and training in all courses in the easier way to reach your goal.

Rigorous training and interactive sessions with real time experts.

Dedicated and skilled team to place you in the right job.


Assistance in resume preparation, mock interviews and technical questions after training.
Benefits Out Of This Training
30 Hours Of Classes

24 Hours access to the server.

Trained by Highly real time experienced trainers.

FAQs and Real Time Scenarios

Mock Interviews

On Job Support

Case Study

Resume Preparation Assistance


Session Details:
OBIEE 10g/ 11g

Build Repositories
Course Objectives:
Use time series functions to support historical time comparison analyses



Build the Physical, Business Model and Mapping, and Presentation layers of a repository

Build simple and calculated measures for a fact table

Create dimension hierarchies and level-based measures

Model aggregate tables to speed query processing

Use variables to streamline administrative tasks and modify metadata content dynamically

Set up security to authenticate users and assign appropriate permissions and privileges

Apply cache management techniques to maintain and enhance query performance


Set up a multi-user development environment
Course Topics

Repository Basics

Oracle BI architecture components

Repository structure, features, and functions

Using the OracleBI Administration Tool

Creating a repository

Loading a repository into Oracle BI Server memory


Building the Physical Layer of a Repository

Importing data sources

Setting up connection pool properties

Defining keys and joins

Examining physical layer object properties


Creating alias and select tables
Building the Business Model and Mapping Layer of a Repository

Building a business model

Building logical tables, columns, and sources

Defining logical joins

Building measures


Examining business model object properties
Building the Presentation Layer of a Repository
Exploring Presentation layer objects

Creating Presentation layer objects

Modifying Presentation layer objects


Examining Presentation layer object properties
Adding Calculations to a Fact Table

Creating new calculation measures based on existing logical columns

Creating new calculation measures based on physical columns


Creating new calculation measures using the Calculation Wizard
Creating Dimension Hierarchies and Level-Based Measures

Creating dimension hierarchies

Creating level-based measures

Creating share measures


Creating rank measures
Using Repository Variables

Session variables

Repository variables

Initialization blocks

Using the Variable Manager


Using dynamic repository variables as filters
Using Aggregates

Purpose of aggregate tables in dimensional modelling

Modelling aggregate tables to improve query performance

Testing aggregate navigation

Using the Aggregate Persistence Wizard


Modelling Time Series Data

Using time comparisons in business analysis

Using Oracle BI time series functions to model time series data
Security

Creating users and groups

Setting permissions for users and groups

Authenticating using a external database

Authenticating using database authentication

Setting query limits and timing restrictions

Setting filters to personalize information

Cache Management

Restricting tables as non-cacheable

Using Cache Manager

Inspecting cache reports

Purging cache entries

Modifying cache parameters and options


Seeding the cache
Multi-user Development

Setting up a multi-user development environment

Developing a repository using multiple developers


Tracking development project history
Create Reports and Dashboards
Course Objectives:
Create and modify Business Intelligence requests using Oracle Business Intelligence Answers

Work with views to display request information

Create and modify Interactive Dashboards

Create guided navigation links within Interactive Dashboards

Use Oracle Business Intelligence Delivers to configure, schedule, and deliver personalized alerts to Interactive Dashboards using iBots

Perform administrative tasks related to the development and configuration of Interactive Dashboards

Customize the Oracle BI Presentation Services user interface

Work with Oracle BI Presentation Services content in Microsoft Office applications

Build Oracle BI Publisher reports based on Answers requests and BI metadata subject areas

Integrate Oracle BI Publisher reports in Interactive Dashboards


Employ recommended design principles and best practices
Course Topics:

Working with Oracle Business Intelligence Answers
Introduction to Oracle BI Answers

Working with requests in Oracle BI Answers

Using advanced formatting

Filtering Requests in Oracle Business Intelligence Answers

Introduction to filters in Answers

Adding filter prompts to requests

Using saved requests as filters

Oracle Business Intelligence Answers: Advanced Features

Combining request criteria using set operations

Executing direct database requests


Editing logical SQL generated by a request
Building Views and Charts in Requests

Introduction to Answers views and charts

Creating and editing charts

Performing common view tasks

Showing Results with Gauge Views

Introduction to Gauge views

Working with Gauge views

Showing Results with Pivot Tables

Introduction to pivot tables

Formatting pivot tables


Setting aggregation rules and building formulas
Creating Oracle Business Intelligence Interactive Dashboards

Introduction to Interactive Dashboards and pages

Dashboard Editor UI elements

Composing dashboard elements

Configuring Guided Navigation Links

Building guided navigation with static links

Building guided navigation with conditional links and sections

Configuring Oracle Business Intelligence Interactive Dashboards

Types of dashboard content

Embedding content in Interactive Dashboards


Using bookmark links to distribute and save Interactive Dashboards
Using Oracle Business Intelligence Delivers

Introduction to Oracle BI Delivers

Configuring delivery devices

Adding delivery profiles

Building alerts


Introduction to Oracle BI Scheduler