SAP BO Admin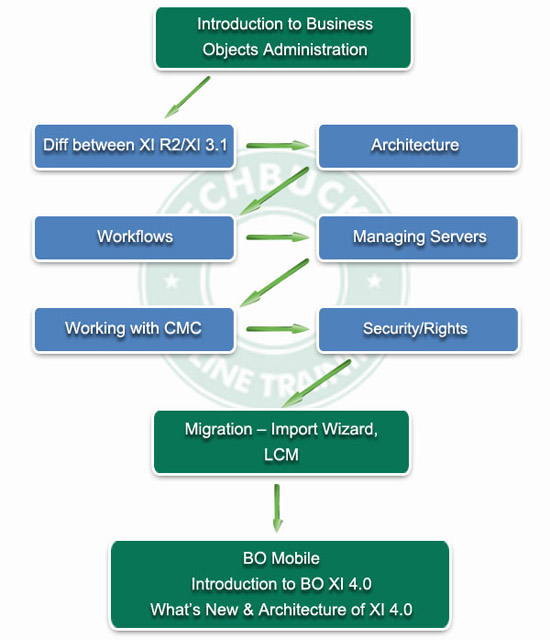 Over View
The Focus of this training is for Admin's they can be either BI Admin or Basis Admin who wants to take the deep drive of administrating the BO Servers. This course will help attendees in maintaining the BO Landscapes of their company. The very new concept of BO Reporting on Mobile Phones is covered.
Attendee Prerequisites
Basic knowledge Business Objects/any BI Tools
Career Path
SAP BO Business Intelligence Administrator

SAP Business Objects Architect


SAP BO/BI Admin Consultant
Certification Path
The course helps you to prepare the following Certification exams

SAP Certified Technology Specialist
Why should you choose TECH BUCKS as your SAP BO Admin Training Partner?
Techbucks is the professional online software training company. We offer software training in various technologies. Many may think what is the specialty in choosing TECH BUCKS?


Our online training is based on real-time exposure and live interactive classes.

Experienced software trainers and skilled professionals with in-depth knowledge.

Customized training packages at affordable prices.

Special classes by industrial experts.

Live project application are dealt in the training

Professional environment driven by friendly values.

We implement entirely different techniques, methodologies and training in all courses in the easier way to reach your goal.

Rigorous training and interactive sessions with real time experts.

Dedicated and skilled team to place you in the right job.


Assistance in resume preparation, mock interviews and technical questions after training.
Benefits Out Of This Training
30 Hours Of Classes

24 Hours access to the server.

Trained by Highly real time experienced trainers.

FAQs and Real Time Scenarios

Mock Interviews

On Job Support

Case Study


Resume Preparation Assistance
Session Details:
Module 1

Difference between XIR2 and XI 3.0/3.1

What's New in Business Objects Enterprise

Architecture

Module 2

Managing and Configuring Server

Federation and its usage

Workflows

Module 3

Working with Firewalls

Working with WACS


Improving Performance

Module 4

Working with the Central Management Console

Managing Security – Rights


Auditing
Module 5

Scheduling

Managing Profiles

Publications

Module 6

Organizing Objects

Adding Objects to Repository

Module 7

Migration from XIR2 to XI 3.0/3.1

Import Wizard

Unix Commands

Module 8

Introduction to BO Mobile

BO Mobile Installation

Configuring BO Mobile

Downloading the Application to your Mobile

Accessing BO Mobile

Module 9

Introduction to BO XI 4.0

What's New in BO XI 4.0


Architecture of BO XI 4.0